ALIENWARE CES 2019
JANUARY 8, 2019
LAS VEGAS
With a continued focus on promoting innovation and approachability within the rapidly-expanding esports industry, Alienware forges a new multi-year partnership with League of Legends Esports via Riot Games. As the developer and operator behind the world's most-played and most-viewed esports title, this monumental partnership enables both Alienware and Dell to demonstrate their expertise in hardware and technology services perfectly suited to support the rigorous operational logistics for a global esports scene like League of Legends.
Alienware will become the Official Competition PC and display partner of the League of Legends Championship Series (LCS), the League of Legends European Championship (LEC), as well as in four international competitions: NA vs EU Rift Rivals, the Mid-Season Invitational, the World Championship, and the All-Star Event.
The hardware powering the competition behind League of Legends' two premier Leagues and four international events will be a fleet of Alienware Aurora R8 desktops paired with top-of-the-line AW2518H 240Hz G-sync gaming monitors. Each Alienware PC within the fleet will include the Dell SupportAssist diagnostic tools utilizing proactive features designed to detect and prevent technical issues before they have a chance to critically impact a League match.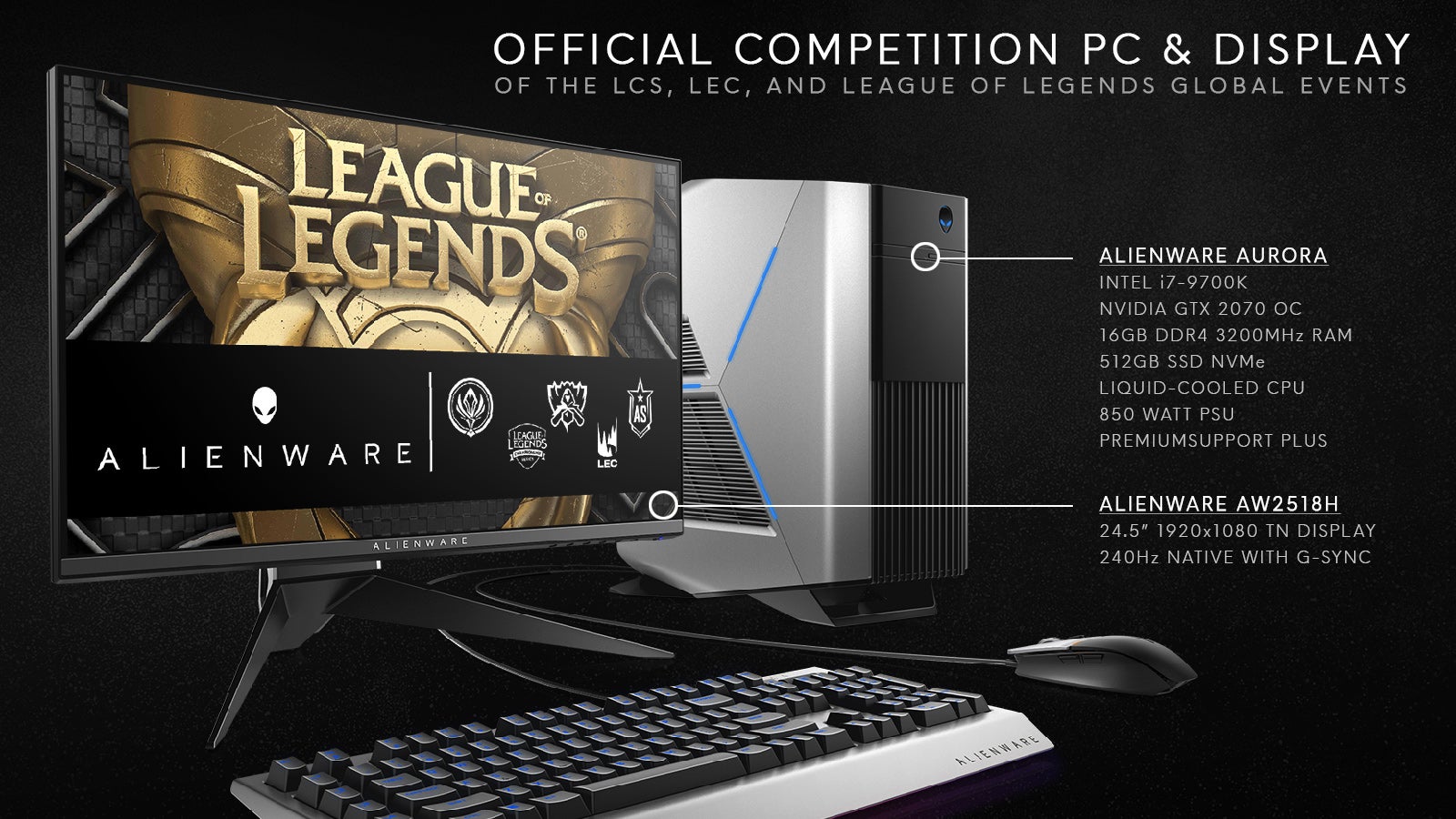 Click the image above to view and customize an Alienware Aurora right for you.
Click here for United Kingdom, Germany, or France.
For the pros competing in the LCS and LEC, this introduces not only a major improvement in the overall performance and responsiveness of the new 2019 League hardware, but it also helps to stabilize the competitive experience by ensuring that the hardware used by teams throughout the regular season are identical to the ones that will support them in international play as well as throughout their League of Legends World Championship run.
For the fans watching online, and especially those who attend local League of Legends esports events, stay tuned. Alienware will be collaborating closely with Riot Games to introduce a variety of exciting broadcast innovations geared towards celebrating the elite skills of these talented pros as well as creating integrations to enable the League esports experience to be more approachable and engaging for new and advanced players alike.
This partnership unites two organizations with no shortage of experience and resources committed towards demonstrating leadership, innovation and creating meaningful improvements for the League of Legends esports pros, community, and long-term sustainability of the sport.
TUNE IN TO OUR CES 2019 CELEBRATION LIVESTREAM FT. THE GLITCH MOB
JANUARY 8TH, 2019 | 10PM PT
WWW.TWITCH.TV/ALIENWARE