Golden Joystick Winners Announced!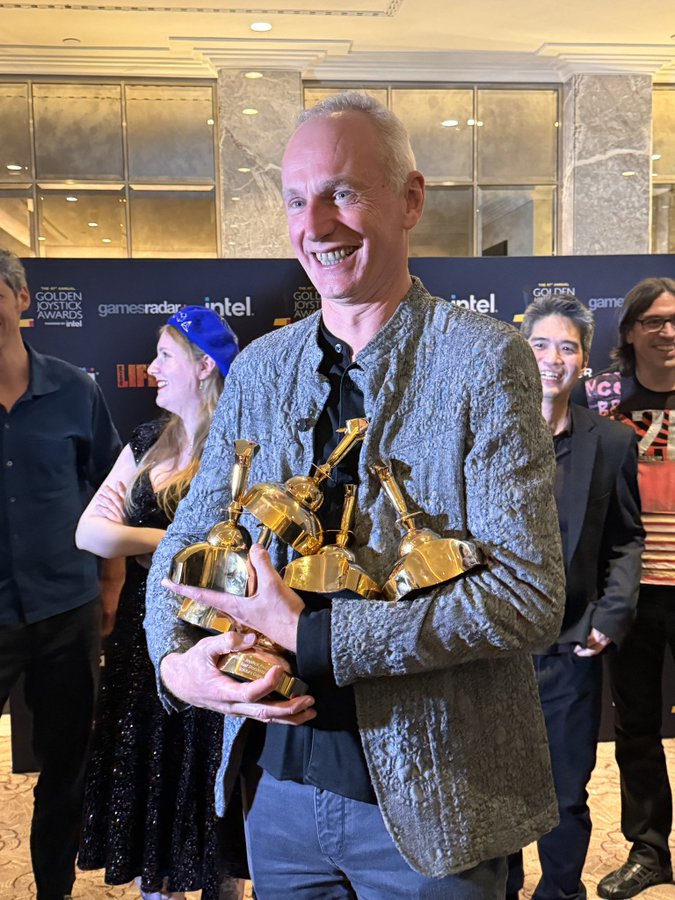 Last week, gamers who turned in saw Baldur's Gate 3 sweep The Golden Joystick awards by winning in every category it was nominated in, Best Storytelling, Best Visual Design, Best Game Community, PC Game of the Year, Ultimate Game of the Year, Studio of the Year (we might as well count Neil Newbon's win for Best Supporting Performer as a win for Larian as well.) The studio's excitement over these wins was perfectly captured by this snapshot on the right of Larian's CEO Swen Vincke gleefully struggling to hold all the awards simultaneously.
CD Projekt Red took home two awards for Best Game Expansion and Best Game Trailer for Cyberpunk 2077: Phantom Liberty. It was very nice to see CD Projekt Red get recognition for their hard work on updates and extra content since the game's release. Let's hope the Cyberpunk 2077 team feels the positivity from the community after this win!
Nintendo's The Legend of Zelda: Tears of the Kingdom was right up there with BG3 when it came to nominations and ended up taking home the award for Best Nintendo Game of the Year. This may or may not have come as a surprise, depending on how much of a fan you are of the Legend of Zelda franchise. For long-time fans, the game was an incredible addition to the nostalgic games players have grown up on, and the award reflects that. For others just jumping into the game, it was certainly great, but may not be exactly what everyone was looking for.  
Square Enix cleaned up at the awards as well, winning Best Audio for Final Fantasy XVI, Ben Starr winning Best Lead Performer in Final Fantasy XVI (again, counting these as a mutual win for both performer and studio), and snagging Most Wanted Game for Final Fantasy 7 Rebirth. Fans of the Final Fantasy franchise have once again proved themselves as a loyal and active community. 
 
Click here to see the full list of winners and catch the full awards show below!